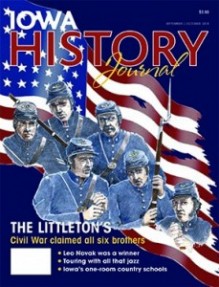 Volume 6, Issue No. 5, September/October 2014
Few stories about the American Civil War are as heart-tugging, unique and relatively unknown (until now) as that of the six Littleton brothers from Louisa County, Iowa, all of whom died as the result of their military service during the Civil War. Writer John Busbee explores their fascinating story, augmented by exclusive artwork created by Iowa City artist Will Thomson.
Discover Smith Brookhart, a controversial Republican United States Senator from Iowa who was a passionate Prohibitionist, a soldier in the Spanish-American War, bucked party trends and is the only sitting U.S. senator ever to be removed from office. By John Skipper.
Take in the high notes and the low notes from first-hand observations by touring jazz musician, Robert Weast.
Some coaches know how to win no matter what the sport might be, and that pretty well sums up the career of a man named Leo Novak. He was a winner at everything. Writer Buck Turnbull explains.
IHJ founder Mike Chapman shares his experience on his tour of the USS Iowa. Read about how the USS Iowa inspires awe and pride in the Founder's Column.
Bill Sherman reviews four books that capture the allure of Iowa's one-room country schools.
In Publisher's Perspective, Michael Swanger, writes about the 25th anniversary of the release of "Field of Dreams" and the time he helped W.P. Kinsella "go the distance."