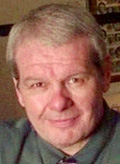 By Mike Chapman
There are some things in life you just have to see in person in order to comprehend their importance. As far as I am concerned, the USS Iowa battleship definitely belongs in that category. On June 8, my wife, Bev, and I had the opportunity to visit the USS Iowa and to take a three-hour tour. It was an experience we will never forget.
The USS Iowa rests in the Port of Los Angeles in San Pedro, Calif., where it was anchored June 9, 2012, at Berth 87, along the Main Channel, and is easily accessible by car. I was in Los Angeles that week to present some awards at a wrestling tournament held on the UCLA campus, and for a meeting with a film company about my novel "Lowell Park," which is being made into a movie … so it was an opportune time to visit the USS Iowa.
Seeing for the first time the legendary battleship sitting in the harbor with the sun shining brightly on it was an emotional experience. First of all, I am an Iowan and take great pride in the history behind this grand warship; and secondly, I served in the United States Navy for three years (1962-1965) and am very proud of that fact.
We arrived at noon and there were about 100 cars in the parking lot. As we walked toward the ship, I felt a sense of awe swelling up inside of me. We heard others talking in hushed voices as they gazed at the massive ship that had seen action in World War II, the Korean War and Cold War, and even into the 1980s. Some were ex-sailors, like me, but the majority of visitors that day were probably there to partake of American history.
As we came aboard, we were politely greeted by a volunteer — one of 800 who helps make the museum (that's what the ship is now) — so popular. When we said we were from Iowa, he beamed and stuck out his hand. "That is wonderful," he said. "We just love it when Iowans come … because your state made this all possible!"
We roamed the ship, listening to others whispering comments of awe at the size of everything. We walked on the same deck that thousands of sailors had walked on during moments of conflict all around the world. We saw the stateroom that President Franklin D. Roosevelt stayed in while on his way to Algeria in 1943 for a crucial meeting in Tehran, Iran, with British Prime Minister Winston Churchill and Soviet leader Josef Stalin. The small stateroom had a special bathtub and an elevator to shuttle the polio-afflicted president between decks.
Talk about history of the highest rank — two years later, on Sept. 2, 1945, the USS Iowa was anchored in Tokyo Bay, serving as the Third Fleet flagship, during the Japanese surrender! The surrender of Japan marked the end of World War II and is one of the pivotal moments in all of world history … and the USS Iowa was there, front and center.
Each time a serviceman of any branch comes aboard his name is announced over the loudspeaker. If it's someone who actually served on the USS Iowa, it's a special occasion. We talked to one briefly; he had not been back to the ship since being discharged in the 1950s, and he was clearly very proud to be showing his kids and grandkids around.
Bev was impressed by the war room, where a huge map traces the entire voyages of the USS Iowa during its war service time, and even had explosion points marking where the guns were fired. We stood there for 10 minutes staring at the immense map and trying to imagine what it must have felt like to be a part of such amazing history.
Sitting at the end of the map was a 90-year-old man who had served on the USS Iowa during World War II. We talked to him for several minutes and thanked him profusely for his service to our country. There was a trace of wetness in his eyes as he talked about his time on the USS Iowa. He was onboard during the Japanese surrender in Tokyo Bay. I get goosebumps just thinking about him as I write this!
Back outside we stood under the huge guns … big enough to send shells the size of a Volkswagen automobile some 25 miles through the air.
It was a long, arduous journey for the USS Iowa to its final resting place in Los Angeles Harbor. Gov. Terry Branstad and former state Sen. Jeff Lamberti and thousands of other Iowans were heavily involved in making the dream become a reality. WHO Radio has broadcast from there on several occasions; the most recent being on July 4, when talk show host Simon Conway was there. He reported that, "All the boats in the harbor have to swing by to take a look … even the big cargo ships give a toot when they go by." He said that captains of the various tour boats tour the ship, out of deep respect for its history.
"IOWA was launched more than 70 years ago to defend American ideals of freedom, liberty and justice," reads the official brochure. "Her construction, design and the service of her veterans reflect those ideals and inspire all who visit this iconic ship.
"Forged in war, guardian of peace, IOWA is now the great gray sentry of the Los Angeles Waterfront. Today, veterans, their proud families, eager school children and curious international tourists are awed by IOWA's proud legacy as one of the fastest and most powerful ships to ever sail the world's oceans."
The USS Iowa is a real treasure for the nation, and is an enduring monument to the state of Iowa. An estimated 500,000 people have visited it in the two years it has been open to the public. I sincerely hope that all Iowans can at some time in their lives walk its decks and bask in its glory like we did on June 8. It's something you have to see in person to fully comprehend its meaning.
(The USS Iowa is in constant need of funds for upkeep and maintenance. It offers an extensive gift shop with a wide array of items for sale — from shirts, jackets and caps to drinking glasses, books and photos. Go to the website for additional information on ordering, and click on retail section and then ship's store: www.pacificbattleship.com)
(Mike Chapman retired from a 35-year newspaper career in 2002. He and his wife, Beverly, founded Iowa History Journal in 2009.)
TO READ MORE FASCINATING STORIES ABOUT IOWA HISTORY, subscribe to Iowa History Journal. You can also purchase back issues at the store.