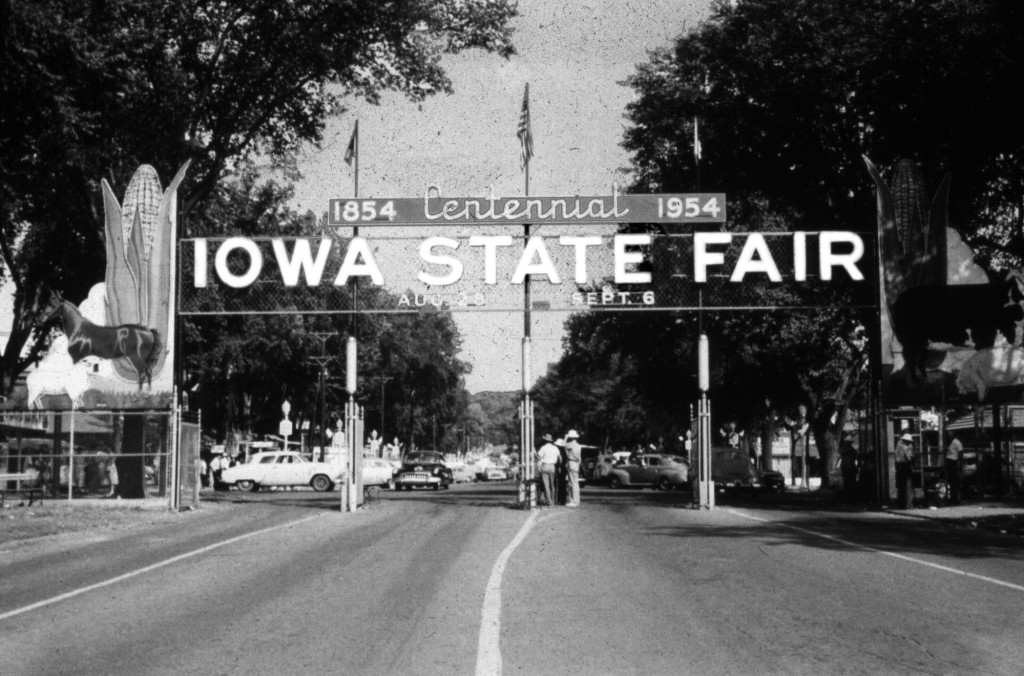 By John Skipper
When famed musician and native Iowan Meredith Willson was a teenager, he went to New York to visit his sister, Dixie, a successful playwright. Dixie wanted to show her younger brother the magnificent sites of New York City so she took him for a ride on a double-decker bus.
As they approached Times Square, Meredith spotted a large electronic calendar-clock flashing the date and time from a nearby skyscraper. The young man looked up at it and said, "Look at the date, sis. We're missing the fair!"
He may have been in New York City, where decades later, his musicals "The Music Man" and "The Unsinkable Molly Brown" were Broadway hits, but on this night, his heart was in Iowa and he was thinking about the Iowa State Fair.
A crown jewel of Iowa that draws more than one million people every year for 11 days of merriment, big name entertainment, friendly competition in everything from apple pies, to livestock and cuisine, and popular food like pork chops on a stick and corn dogs, the Iowa State Fair is known as "America's classic state fair" and arguably one of the nation's most popular.
The Iowa State Fair has played host to entertainers, presidents and millions of farmers, 4-H youngsters and visitors from around the world. It is also the inspiration for the original novel "State Fair" by Iowan Phil Strong, three movies and Rodgers and Hammerstein's Broadway musical.
It is a spectacle once described by Vacationland USA magazine as "a living museum which renews itself every August." And it is the only fair listed in The New York Times best-selling travel book, "1,000 Places to See Before You Die."
The Iowa State Fair Board every year sets dates for the fair so it does not interfere with the start of the school year. This year's fair will be held Aug. 13-23.
Coincidentally, the history and the purpose of the Iowa State Fair is quite instructive, as it is intended to educate visitors about Iowa's agricultural roots. The two men who created it more than 150 years ago did not have singers, dancers, midways and carnivals in mind.
Judge Thomas Clagett of Keokuk and J.M. Schaffer of Fairfield, neither of whom were farmers, were nonetheless members of the Jefferson County Agricultural Society. In 1853, they recognized and discussed the need for a state agricultural organization as a way to attract and promote business for farmers.
Iowa had only been a state for seven years and was the only state that did not have a statewide organization, though most counties had agricultural organizations.
So at the behest of Clagett and Schaffer, the Jefferson County Agricultural Society invited members of agriculture organizations from all 99 counties to a meeting in Fairfield on Dec. 28, 1853, to form the Iowa State Agricultural Society.
The invitation said, "Is it not time for the farmers of Iowa to be aroused to the importance of such an organization in this state? Should the resources of other states be developed, their wealth increased and their people elevated in the scale of intellectual being, and ours stand still?"
It was clearly written by businessmen who saw formation of a state organization as a way of increasing commerce. There was no vision of a state fair, nor anything that would resemble family fun. But it was clearly a call to action.
In that respect, the response had to be disappointing. Representatives of only five counties showed up, but that was enough to get it going and the Iowa State Agricultural Society was formed. Clagett, who was unable to attend the first meeting, was elected president in abstention. Schaffer was elected as secretary.
Its mission was to sponsor agricultural fairs — events for farmers, manufacturers and homemakers who would display their products in "amicable rivalry."
The first Iowa State Fair was held for three days in Fairfield in October of 1854 on a budget of $323. There was a 25-cent entry fee for adults. Children were admitted free of charge. Attendees were treated to a lengthy speech by Clagett after which they could roam around the six acres of fairgrounds and inspect everything from tractors and other farm implements to articles made from ladies' looms. There was also judging of livestock, crops, fruits and vegetables.
The goal was for the fair to be educational and competitive. It was acceptable for people to enjoy themselves, but there was no midway, no carnival, no fancy or exotic treats. If there was fun, it was a byproduct. But it was a start.
The Iowa State Fair moved from one county to another for 25 years to give cities like Fairfield, Muscatine, Oskaloosa, Iowa City, Dubuque, Burlington, Clinton, Keokuk and Cedar Rapids the opportunity to capitalize on dollars spent by visitors. But it also created expenses that were difficult to overcome, especially in smaller counties. So in 1879, the Iowa State Fair was moved to Des Moines in Polk County, a largely populated area in the middle of the state that afforded equal access for visitors from all corners of the state and was a hub for railroad transportation, another important factor.
On Aug. 30, 1879, the fair opened on a 60-acre site that was 10 times larger than the first setting 25 years earlier. Attendance was estimated at 100,000 people.
In 1884, the State Legislature allocated $50,000 for the purchase of at least 200 acres of land, but not to exceed 400 acres "somewhere in Iowa" with the condition that a city had to match the state funding. Des Moines accepted the offer.
A suitable site was secured in 1885 near the eastern city limits of Des Moines (the present location known as the Iowa State Fairgrounds) and after all the legal and financial terms were worked out, the agricultural association took possession in 1886. When the Iowa State Fair opened that year, there were 67 buildings that had been constructed on the land as well as sheds, booths, concession stands and entertainment venues. (The 450-acre Iowa State Fairgrounds  and Campgrounds are listed in the National Register of Historic Places and feature a large collection of 19th and 20th century exposition-style buildings.) There were no butter cows or fair queens yet and the Bill Riley Talent Show would not be around for nearly a century, but the fair had clearly added fun to its focus.
TO READ MORE ABOUT THIS STORY AND OTHER FASCINATING STORIES ABOUT IOWA HISTORY, subscribe to Iowa History Journal. You can also purchase back issues at the store.