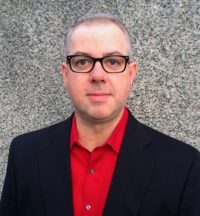 By Michael Swanger
Archaeological field investigations, geographical surveys and excavation sites typically reveal a disordered glimpse of Iowa's past, but few have unearthed a more extensive and pristine view of a period of Iowa's history than the Kimball Village Site in northwest Iowa that became the state's 26th National Historic Landmark on Dec. 23, 2016.
Located in a private farm field near Westfield, historians believe that the well-preserved 1.9-acre Kimball Village Site in the Loess Hills was inhabited by Native American Prairie-Plains tribes living along the Big Sioux River about 800 years ago. They say that the archaeological site — considered by many to be the earliest and best-preserved eastern Great Plains fortified village known in the U.S. — is one of six Big Sioux villages that existed between 1100 and 1250 and that it embodies the "characteristics of early indigenous farmers, settlements and material culture that typify early Plains Village sites." It represents a period and place in which people switched from hunting, gathering and small-scale crop production, to a sedentary lifestyle of growing maize and establishing compact villages with timber lodges.
Though recent news of the site's National Historic Landmark designation likely has been the first time that many Iowans have heard of it, the Kimball Village Site was discovered more than 80 years ago and it was listed on the National Register of Historic Places in 2010. Over the years, several archaeological field investigations have taken place there, but it has remained relatively hidden to the public because it is located on private property. Officials say that the exact location of the site will continue to be kept confidential as a result of its private ownership and landmark status.
Hunters in Plymouth County found the site in 1936. Three years later, Dr. Charles R. Keyes, a professor at Cornell College, his assistant Ellison Orr, and 14 workers from the Works Progress Administration were the first to excavate the Kimball Village Site that is marked by a mound that rises several feet above ground. According to the National Park Service, they dug trenches eight feet deep that revealed 20 houses fortified by a ditch and timber palisade, hearths, storage pits, burial features and more than 9,000 artifacts, including tools made from bone, shell and stone beads, matting needles and ceramic pottery. Other excavations were completed in 1942, 1963 and 2009. Officials say that about 97 percent of the site remains untouched by excavation.
Several artifacts from the first excavation of the Kimball Village Site are among the permanent collection at the Sioux City Public Museum. Its curator, Matt Anderson, says that the site reveals that its inhabitants stayed there year-round.
"They hunted buffalo and deer and things like that, but they were also agriculturalists," he told the Sioux City Journal. "They grew a primitive version of corn and other grasses."
The Kimball Village Site is the first National Historic Landmark in Plymouth County. It joins a list of Iowa landmarks including the Amana Colonies, Julien Dubuque's Mines and Terrace Hill. Officials say that it will serve as a teaching tool for years to come.
"An enduring aspect of the Kimball Village archaeological significance reflected in National Historic Landmark recognition is the remarkable ongoing potential for this site to continue to inform us about the past life — ways that were formative to today's Iowa," said John Doershuk, State Archaeologist of Iowa, in a press release issued by the Iowa Department of Cultural Affairs. "We are immensely grateful to the property owners for their excellent stewardship ethic in continuing to care for this important place."
TO READ MORE FASCINATING STORIES ABOUT IOWA HISTORY, subscribe to Iowa History Journal. You can also purchase back issues at the store.