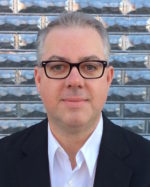 By Michael Swanger
Welcome to the 55th issue and start of the 10th year of Iowa History Journal! It has been an incredible journey to reach this milestone anniversary, one which would not be possible without the support of many people, including readers like you.
As I look back at the first nine volumes of IHJ  many thoughts come to mind.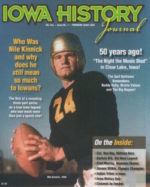 First and foremost, is IHJ's unwavering enthusiasm for Iowa's fascinating history and its commitment to quality journalism. As the only popular statewide magazine devoted exclusively to Iowa history, we take pride in researching, reporting and designing stories that are often overlooked or forgotten in an informative and entertaining way. We could not do so without the contributions of many talented writers, photographers and designers.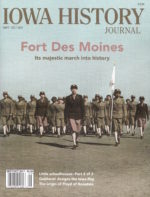 Equally important to IHJ's mission is continued support from our loyal advertisers, distributors, retailers, printers and those who assist us with office duties. Without them, our small Iowa business would not succeed.
My family is also invaluable. Publishing IHJ is a labor of love, but it requires hard work, longs hours and making sacrifices. My wife, Rebecca, and our son, John, help me with a variety of office work in their limited spare time (thanks, son, for taking your dad's column photos, too). Publishing IHJ is a family affair and I am deeply grateful for their efforts and encouragement.
Ultimately, though, IHJ would not exist without our loyal subscribers and customers who buy IHJ on newsstands at their local Casey's General Store, Hy-Vee Food Store, or independent bookstore.
In return, we have maintained our low prices while adding editorial content. Visit our website (iowahistoryjournal.com) and Facebook page for updates about periodic discounts this year on our popular back issues and posters. Also, don't forget to play our weekly IHJ trivia game on Facebook to win prizes.
Last, but not least, keep sending us your story ideas and letters to the editor. We value your feedback. Thanks for reading IHJ!
TO READ MORE FASCINATING STORIES ABOUT IOWA HISTORY, subscribe to Iowa History Journal. You can also purchase back issues at the store.