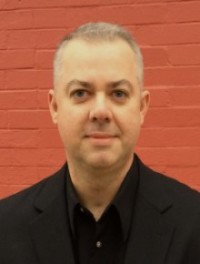 By Michael Swanger
For some Iowans, an enjoyable means of "time travel" is perusing antique automobiles at vintage car shows. The aesthetic of distinct lines, bold colors, polished chrome and an era of bygone horsepower appeals to their sense of nostalgia and harkens back to an age of innocence.
During warm weather months in Iowa, vintage car shows are staples of entertainment (and sources of fundraising) in many communities, the likes of which you can set your calendar by each year. Some of them, including the Red Flag Horseless Carriage Tour and Des Moines Concours d'Elegance, also offer lessons in history.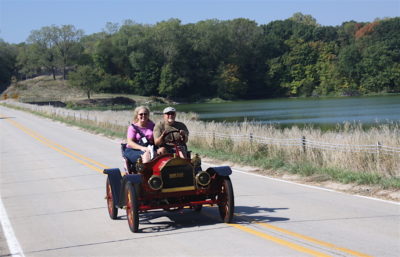 Organizers of the 5th Annual Red Flag Horseless Carriage Tour promise to bring "a bit of Olde England to Iowa" when they host their four-day event Sept. 21-24. Its connection to history dates back to 1896 when British motoring was forever changed by the passage of the Locomotives on the Highway Act that raised the speed limit from 4 mph to 14 mph and eliminated the need for drivers to be proceeded by "a man on foot with a red flag."
As a result of the new British law, the "Emancipation Run" was established in which vehicles travelled from London to Brighton and later became known as the "London to Brighton Run," complete with the tradition of burning a red flag at the start of each tour.
A group of southeastern Iowa car enthusiasts recognized the opportunity to foster an understanding and appreciation of vintage vehicle touring and Iowa's scenic countryside while giving their region's economy a boost when they founded the Red Flag Horseless Carriage Tour. This year's tour will feature cylinder, steam or electric antique vehicles, including motorcycles, up to 1915 as well as a second group of vehicles with more than two cylinders up to 1927 and any steam or electric vehicle or motorcycle through 1927. The tour visits towns like Mount Pleasant, Washington, Wayland, Bentonsport, Keosauqua, Salem and two named with a nod overseas to the Land of Hope and Glory — New London and Brighton.
"A Celebration of the Art & Design of the Automobile," the 2016 Des Moines Concours d'Elegance will be held downtown on Sept. 10-11 in the John and Mary Pappajohn Sculpture Park. The Concours will feature more than 100 invitation-only vintage and classic vehicles that celebrate the fine art, design evolution and innovators of automobiles. In addition to its driving tour on Saturday, an exhibition and judging of participating vehicles will be held Sunday. On that day, a 9/11 Remembrance Class featuring firefighting and rescue vehicles will be featured to pay tribute to the public servants who lost their lives 15 years ago during the terrorist attacks of Sept. 11, 2001.
Another class will be devoted to automobiles that were conceived and constructed in Iowa. For example, brothers Fred and August Duesenberg built their first cars in Des Moines before moving to Indiana and making some of the best cars during the 1930s. Other Iowa manufacturers during the early 20th century included Colby, Mason, Maytag and Zip.
The location of the Des Moines Concours d'Elegance is also historically significant. The Western Gateway is located in an area of downtown formerly known as "Auto Row." Last year, the Concours recognized the centennial of Auto Row, which in 1915 was home to a variety of automobile dealers including Buick, Chevrolet, Ford and Studebaker, to Detroiter, Hudson, King, Maxwell, National, Reo and Stutz.
For those who enjoy the kind of "time travel" that these events offer, chances are they'll drive away with a better understanding of our state's history.
Thanks for reading.
TO READ MORE FASCINATING STORIES ABOUT IOWA HISTORY, subscribe to Iowa History Journal. You can also purchase back issues at the store.