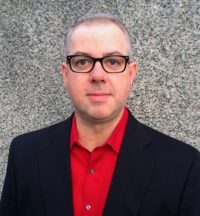 By Michael Swanger
Shortly before this issue of Iowa History Journal rolled off the press, the State Historical Society of Iowa Board of Trustees informed me that the writers of three IHJ stories swept the 2017 George Mills-Louise Noun Popular History Awards, which compelled me rewrite my column to humbly share the good news with you and pay homage to them for their quality work for IHJ.
The Mills-Noun Award recognizes the author(s) of the most significant popular history article on an Iowa history topic published during the previous calendar year in a newspaper, magazine or digital publication. The board may give one award and up to two certificates of honorable mention annually. It is named in honor of newspaper reporter and popular historian George Mills and historian of women's history and philanthropist Louise Noun.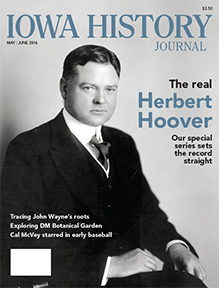 Glen Jeansonne and David Luhrssen, both from Wisconsin, won the 2017 Mills-Noun Award for their special three-part IHJ series published in 2016 (Volume 8, Issues 3-5), "The real Herbert Hoover." It marks the second consecutive year in which the author(s) of an IHJ story took home the top prize. Their insightful, meticulously-researched and well-written series not only set the record straight regarding Hoover's legacy, which is commonly and unjustly maligned, it provided historical context of his presidency, humanitarian work and personal life (including his Iowa and Quaker roots) that is often missing in other published works. Those who enjoyed the series are encouraged to read Jeansonne's triumphant biography, "Herbert Hoover: A Life," which was published last fall and included assistance from Luhrssen.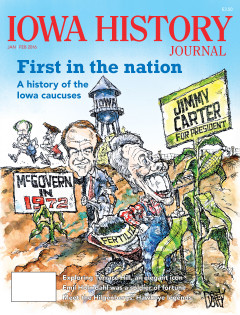 Jerry Harrington of Iowa City earned Honorable Mention for his 2016 (Volume 8, Issue 1) IHJ cover story, "First in the Nation: A history of the Iowa caucuses," in which he efficiently and effectively chronicled the history of Iowa's caucuses dating back to 1972, punctuating his informative and entertaining story with behind-the-scenes glimpses of the quadrennial process in which Iowans help select presidential candidates. Readers may recall that Harrington won the 2016 Mills-Noun Award for his 2015 IHJ three-part series, "Governors of Influence" (Volume 7, Issues 1-3). Earlier this year, he published his first book, "Crusading Iowa Journalist Verne Marshall: Exposing Graft and The 1936 Pulitzer Prize."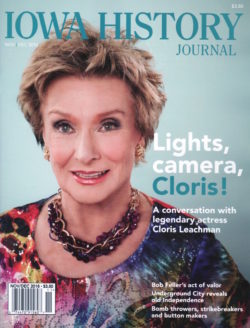 Don Doxsie of Davenport, a veteran sports columnist for the Quad City-Times, earned Honorable Mention for his 2016 IHJ feature story about Bob Feller's military service, "Act of Valor" (Volume 8, Issue 6). Doxsie's well-told story delves into the Hall of Fame pitcher's military service and how he became the first famous athlete to answer the call to duty after the 1941 attack on Pearl Harbor. Baseball fans might enjoy Doxsie's 2015 book, "Iowa Baseball Greats: Sixteen Major Leaguers Who were in the Game For Life."
This year's winners join a growing list of IHJ contributors who have previously won Mills-Noun Awards. It includes John Busbee, creative project developer, radio host and playwright, whose 2014 IHJ cover story, "The Littletons: Civil War claimed all six brothers" (Volume 6, Issue 5), won Honorable Mention in 2015; and Jeff Stein, author and radio host, who won Honorable Mention in 2014 for his 2013 IHJ feature story about Kate Shelley, "Bridging a Miracle" (Volume 4, Issue 4).
Finally, by the time that you read this, a ceremony recognizing this year's winners will have been held in the Governor's Formal Office at the State Capitol on April 17. But it is not too late to join me in congratulating them and all of the writers who devote their time and talent to keep Iowa history alive on the pages of IHJ.
TO READ MORE FASCINATING STORIES ABOUT IOWA HISTORY, subscribe to Iowa History Journal. You can also purchase back issues at the store.