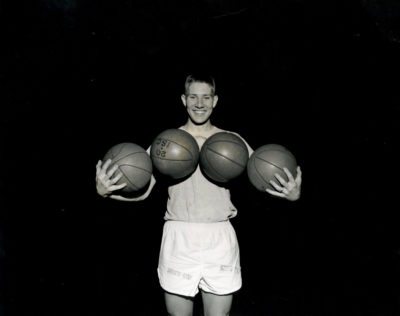 Gary Thompson's meteoric rise to hometown hero, All-American and beyond
By Larry Cotlar
Gary Thompson wept. So did his wife, Janet, as well as the rest of his family.
These were tears of joy.
The date was Oct. 25, 2016. The Roland-Story school district was honoring their favorite son by dedicating its middle school gym floor to the man known as "The Roland Rocket," Gary Thompson. (This is the original gym floor from when the school and the gym was built in 1941.) The floor was newly refurbished. It was sanded down to its original wood and is now used mostly for tournaments and wrestling meets.
"It is too small for high school basketball games, seating only about 100 people," said Brian Peterson, the activities director at Roland-Story, "but it is still one of our nicest playing surfaces."
Memories of Thompson's exploits during his playing days in Roland during the 1950s have been on display at Roland-Story Middle School for years. But that doesn't mean that the students and staff knew about them.
So Brian Town, the school's principal, sent an e-mail blast to students about Thompson's basketball and baseball accomplishments, not only at Roland High School, but at Iowa State University.
Anyone remotely familiar with Thompson's legacy, knows that there is plenty to tell.
TO READ MORE FASCINATING STORIES ABOUT IOWA HISTORY, subscribe to Iowa History Journal. You can also purchase back issues at the store.