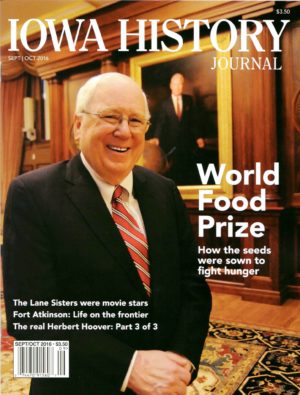 By Ambassador Kenneth M. Quinn
In the winter of 1914, with the world just months away from the start of World War I, two events occurring about one month apart in two small, distant Iowa communities would not have seemed of much consequence.
Yet the births of John Ruan Sr. on Feb. 11 in the town of Beacon outside Oskaloosa and that of Dr. Norman Borlaug on a farm in the Norwegian settlement of Saude in Howard County on March 25, would be celebrated a century later by Iowans and people across the world. Statues would be erected in Des Moines, Mexico, India and the U.S. Capitol in Washington D.C., and an annual ceremony in the Iowa State Capitol each October that draws 1,200 people from more than 60 countries now celebrates the international award they established to confront hunger.
How Borlaug and Ruan ended up meeting for the first time at age 76 and their improbable partnership that built the World Food Prize into the "Nobel Prize for Food and Agriculture" is a great Iowa story.
Great Depression shapes lives and dreams Both men would come of age during the Great Depression in ways that would shape their character and set them on a course to be transformative figures in the state, the nation and in Borlaug's case, the world.
After his father relocated the family to Des Moines, Ruan graduated from North High School (where he played on the Polar Bears' baseball team). But in the early 1930s, he was forced to withdraw from Iowa State University when his father passed away and he became the sole support of his family. He bought a deadlined 1921 Ford Model T Roadster pickup truck for $10 and started hauling gravel.
By the mid-1940s, Ruan had turned that one vehicle into a major national trucking company. In the 1970s, he was at the forefront of saving downtown Des Moines from a mass suburban exodus by constructing the 34-story Ruan Center office building and the Marriott Hotel. A passionate civic entrepreneur, Ruan's dream was to erect an even taller building and make Des Moines and central Iowa the "Food and Agricultural Capital of America."
Borlaug, after attending grades K-8 in a one-room schoolhouse, graduated from Cresco High School where he developed a "never-give-up" attitude on the school's wrestling mats. He then went to the University of Minnesota, where he worked his way through school parking cars and serving meals at a sorority house, while also becoming an accomplished NCAA wrestler.
With a Ph.D. in plant pathology, Borlaug spent more than two decades in the remote areas of Sonora, Mexico, working with the poorest farmers to develop a new "miracle wheat" that would triple the yield and resist rust disease that was a scourge to farmers.
Borlaug took his new varieties of wheat to India and Pakistan in the mid-1960s as those two countries faced imminent famine and mass starvation. His new approach to agriculture was credited with saving hundreds of millions of lives. In 1970, Borlaug was called to Norway, the home of his ancestors, to receive the Nobel Peace Prize as the Father of the Green Revolution.
Borlaug's dream was to create an award that would come to be seen as a "Nobel Prize for Food and Agriculture," in order to recognize and inspire those breakthrough achievements needed to feed the burgeoning world population.
TO READ MORE ABOUT THIS STORY AND OTHER FASCINATING STORIES ABOUT IOWA HISTORY, subscribe to Iowa History Journal. You can also purchase back issues at the store.